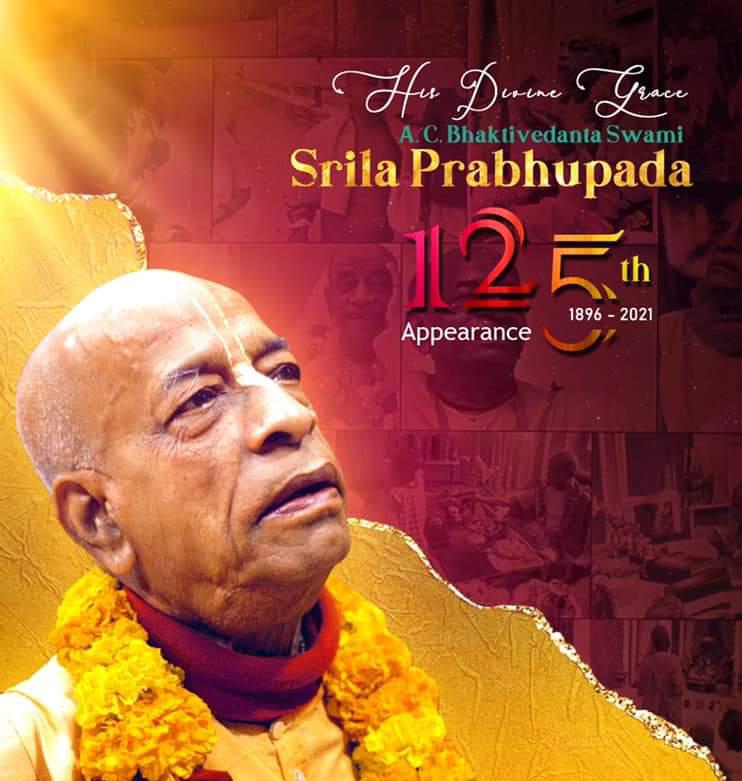 Srila Prabhupada's Prayer to the Lotus Feet of Kṛṣṇa in Jaladuta Ship
kṛṣṇa taba puṇya habe bhāi
e-puṇya koribe jabe rādhārāṇī khusī habe
dhruva ati boli tomā tāi
Translation: I emphatically say to you, O brothers, you will obtain your good fortune from the Supreme Lord Kṛṣṇa only when Śrīmatī Rādhārāṇī becomes pleased with you.
śrī-siddhānta saraswatī,   śacī-suta priya ati,
kṛṣṇa-sebāya jāra tula nāi
sei se mohānta-guru,   jagater madhe uru,
kṛṣṇa-bhakti dey ṭhāi ṭhāi
Translation: Śrī Śrīmad Bhaktisiddhānta Sarasvatī Ṭhākura, who is very dear to Lord Gaurāṅga, the son of mother Śacī, is unparalleled in his service to the Supreme Lord Śrī Kṛṣṇa. He is that great, saintly spiritual master who bestows intense devotion to Kṛṣṇa at different places throughout the world.
tāra icchā balavān,   pāścātyete ṭhān ṭhān,
hoy jāte gaurāṅger nām
pṛthivīte nagarādi,   āsamudra nada nadī,
sakalei loy kṛṣṇa nām
Translation: By his strong desire, the holy name of Lord Gaurāṅga will spread throughout all the countries of the Western world. In all the cities, towns, and villages on the earth, from all the oceans, seas, rivers, and streams, everyone will chant the holy name of Kṛṣṇa.
tāhale ānanda hoy,   tabe hoy dig-vijay,
caitanyer kṛpā atiśay
māyā duṣṭa jata duḥkhī,   jagate sabāi sukhī,
vaiṣṇaver icchā pūrṇa hoy
Translation: As the vast mercy of Śrī Caitanya Mahāprabhu conquers all directions, a flood of transcendental ecstasy will certainly cover the land. When all the sinful, miserable living entities become happy, the Vaiṣṇavas' desire is then fulfilled.
se kārja je koribāre,   ājñā jadi dilo more,
jogya nahi ati dīna hīna
tāi se tomāra kṛpā,   māgitechi anurūpā,
āji tumi sabār pravīṇa
Translation: Although my Guru Mahārāja ordered me to accomplish this mission, I am not worthy or fit to do it. I am very fallen and insignificant. Therefore, O Lord, now I am begging for Your mercy so that I may become worthy, for You are the wisest and most experienced of all.
tomāra se śakti pele,   guru-sebāya bastu mile,
jībana sārthak jadi hoy
sei se sevā pāile,   tāhale sukhī hale,
taba saṅga bhāgyate miloy
Translation: If You bestow Your power, by serving the spiritual master one attains the Absolute Truth – one's life becomes successful. If that service is obtained, then one becomes happy and gets Your association due to good fortune.
evaṁ janaṁ nipatitaṁ prabhavāhi-kūpe
kāmābhi kāmam anu yaḥ prapatan prasaṅgāt
kṛtvātmasāt surarṣiṇā bhagavan gṛhītaḥ
so 'haṁ kathaṁ nu visṛje tava bhṛtya-sevām
Translation: "My dear Lord, O Supreme Personality of Godhead, because of my association with material desires, one after another, I was gradually falling into a blind well full of snakes, following the general populace. But Your servant Nārada Muni kindly accepted me as his disciple and instructed me how to achieve this transcendental position. Therefore, my first duty is to serve him. How could I leave his service?" [Prahlāda Maharāja to Lord Nṛsiṁhadeva, Śrīmad-Bhāgavatam 7.9.28]
tumi mor cira sāthī,   bhuliyā māyār lāthi,
khāiyāchi janma-janmāntare
āji punaḥ e sujoga,   jadi hoy jogājoga,
tube pāri tuhe milibāre
Translation: O Lord Kṛṣṇa, You are my eternal companion. Forgetting You, I have suffered the kicks of māyā birth after birth. If today the chance to meet You occurs again, then I will surely be able to rejoin You.
tomāra milane bhāi,   ābār se sukha pāi,
gocārane ghuri din bhor
kata bane chuṭāchuṭi,   bane khāi luṭāpuṭi,
sei din kabe babe mor
Translation: O dear friend, in Your company I will experience great joy once again. In the early morning I will wander about the cowherd pastures and fields. Running and frolicking in the many forests of Vraja, I will roll on the ground in spiritual ecstasy. Oh, when will that day be mine?
āji se subidhāne,   tomāra smaraṇa bhela,
baro āśā ḍākilām tāi
āmi tomāra nitya-dāsa,   tāi kori eta āśa,
tumi binā anya gati nāi
Translation: Today that remembrance of You came to me in a very nice way. Because I have a great longing I called to You. I am Your eternal servant, and therefore I desire Your association so much. O Lord Kṛṣṇa, except for You there is no other means of success.