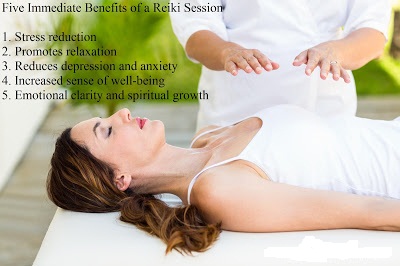 Just a few of the benefits of Reiki
Relaxation, Stress Management, Improved memory ,Reduced Anxiety Improved sleep ,Relieve pain & Tension, Spiritual growth & Emotional cleansing ,enhanced well-being.
 There are many wonderful benefits of Reiki. Reiki is a very simple process, but usually produces quite profound effects. The main purpose of reiki practise is not only to heal diseases, but also to promote a positive mind and healthy body so that people can experience joy in life.
However, reiki does not promise a miraculous cure from disease. Conditions that have taken years to manifest in the physical body cannot be cured in a few sessions. The person has to want to be well and will probably also need to make some lifestyle changes so that the source of stress and negative emotion (dis-ease) does not recur. It takes time for the Physical, Emotional, Mental and Spiritual bodies to be brought back into balance.
What are the Benefits of Having Reiki Treatments
Reiki unlike many modern day remedies works directly on restoring the balance on all levels and works directly on the problem and condition instead of just masking or relieving symptoms. Some of the benefits of reiki are as follows:
Dissolves energy blocks and promotes natural balance between mind, body and spirit;
Increases energy levels;
Creates deep relaxation and helps the body release stress and tension;
Clears the mind and improves focus;
Accelerates the body's self-healing ability;
Aids better sleep;
Reduces blood pressure;
Helps relieve pain;
Assists the body in cleansing itself from toxins;
Supports the immune system;
Helps spiritual growth and emotional cleansing;
Promotes creativity; and
Compliments medical treatment.
The great thing about reiki is that one does not have to be ill to experience the benefits.
Conditions Reiki can Treat
Reiki can be a great benefit to many conditions by helping you deal with the pain, release emotions attached to the symptom and assist in healing the aliment. Some of the many conditions reiki can treat are as follows:
Ø   Migraines,

Ø   Asthma,

Ø  Skin conditions,

Ø  Flu/Colds,

Ø  Ulcers,

Ø  Arthristic,

Ø  Anxiety,

Ø  Back problems,

Ø  Depression,

Ø  Low Self Esteem,

Ø  Poor Self Confidence,

Ø  and many more.
Reiki does not have to be a stand alone treatment. The great thing about reiki is that it can also be used:When Can You Have a Reiki Treatment ?
Ø  When you are not ill but want a relaxing treatment;

Ø  When you just want a pick me up or to boost your energy levels;

Ø  When you are on medication;

Ø  When you have cancer or chemotherapy;

Ø  When you are going for surgery (before, during and after)

Ø  When you have plaster of paris;

Ø  When you are in hospital;

Ø  When you are pregnant or trying to become pregnant; or

Ø  with other complimentary therapies.
Ø  Reiki Healing and Treatment,

Ø  Reiki 1st Level,

Ø  Reiki 2nd Level ,

Ø  Reiki Masters level ,

Ø  Karma,

Ø  Meditation and Yoga
D.Nikhil Kumar (Traditional Reiki Master)
Ph: 7004655858 , 8345969538 ,
Email : hksolutions108@gmail.com