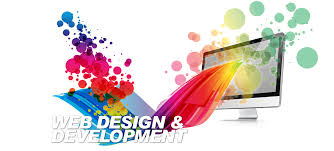 Hare Krishna Solutions is mainly Custom Web Design Company Since 2004. We are expert in Website Design, Web Development, Brand creation and Web Based Graphics, Brochure Design, Logo Design. We have an integrated team of Web Designer, Creative Designers, writers, Web Programmers and Web Marketing Professionals to Make Web Site more Attractive as well as content reach. Web Designing is an essential part of Website Development.
We design with purpose and meaning, and we have fun along the way. Our work connects companies with people in new and engaging ways. On the bases of our customize Web Design process we are different from typical Web Design Companies. We don't just make Web Sites; we build an Image of your Company on the Internet in such a way that it leaves a very positive impression on any potential client visiting your Website. The web site in its true sense is like a virtual showroom and the benefits of having an impressive showroom need no explanation.
OUR VISION
Our team has been delivering innovative, cost effective and timely solutions that drive the growth of small and medium-sized businesses worldwide. Engineered by high quality professionals and managed by matured processes, we help forward-thinking companies achieve and surpass their business goals.
OUR MISSION
With mission to develop the clients performance in their business, our company is sincerely working harder for showing profit oriented results to their clients all over the World.
Our Methodology
Customer is First : Total commitment to our customers. To ensure that we achieve their business objectives and surpass their quality and service expectations fulfilled.
Honesty : Fairness towards transparency of all process and at all levels.
Team Work : Value each & everyone to work as a team for achieving the best.
Innovation : To be a leader and always strive for new advance steps further.
Pursuit of Excellence : A power to constantly improve ourselves, our people, our services and to deliver the best.